The Red Lion Graphite operator panel is an industry leader in performance and communication protocols. When the application requires additional control or connectivity, plug-in the Graphite modules.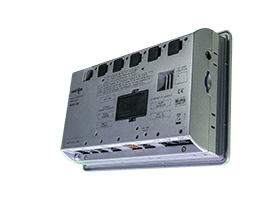 Operation:
Adding a module to the Graphite HMI takes only seconds. The module connects and communicates via a proprietary USB connection to the Graphite HMI. Once the expansion modules are installed on the Graphite HMI, the operator panel can then start probing or controlling connected devices. Once installed and programmed, the module will continue to operate independent of the Graphite HMI as long as power is applied.
PID Controller Modules: 
The Graphite PID Controller module is feature packed, and is a natural extension of the HMI. The PID controller module is available in a single or dual loop version. Additional functionality includes SSR Output, Heater Current Monitor, Relay Outputs, and Analog Outputs. The modules can operate in On/Off, P, PI, or PID control mode, and use an on-demand Auto-Tune that establishes the tuning constants.
Data Acquisition: 
Monitoring and controlling remote devices is now easy and intuitive with the Graphite modules. With Digital I/O, Universal, Analog and Thermocouple/RTD modules, you can now connect to any device or sensor.  Inputs are isolated from outputs, and are independently configurable for high or low active status.
Communication Modules
Expand the Graphite HMIs functionality with communication modules. Add the communication module to your HMI for integration into J1939 and CAN networks. Cellular modules can also be installed with a Graphite HMI providing remote monitoring and control to any application.